What is Foster Care?
Foster care is a partnership that provides safe and nurturing homes to children whose families are experiencing difficulties so severe that the children are removed from their homes. Foster care ensures the physical and emotional safety of the child. The primary goal of foster care is to reunify families.
There are more than 400,000 children in foster care in the United States. In Georgia, there are more than 7,000 children in foster care at any given time. Unfortunately, there are not enough homes to place these children.

Requirements to Become a Foster Parent or Respite Care Provider
Foster Parents must:
Be 25 years or older
Be a U.S. Citizen or have a declared citizenship status (i.e. green card)
Have reliable transportation and a valid driver's license
Be able to verify annual income
Have appropriate living environment for children
Have satisfactory criminal record checks
Have no criminal charges against children
Complete medical and drug screening
Have commitment to make a difference in the life of a child
Foster Parent applicantS can:
Be single, male or female, married, divorced or widowed
Rent an apartment or own your home
BENEFITS
Financial Assistance
Medicaid for children
Ongoing training and support
Opportunity to give back
Respite care
Therapeutic, support and wrap-around services
Adoption opportunities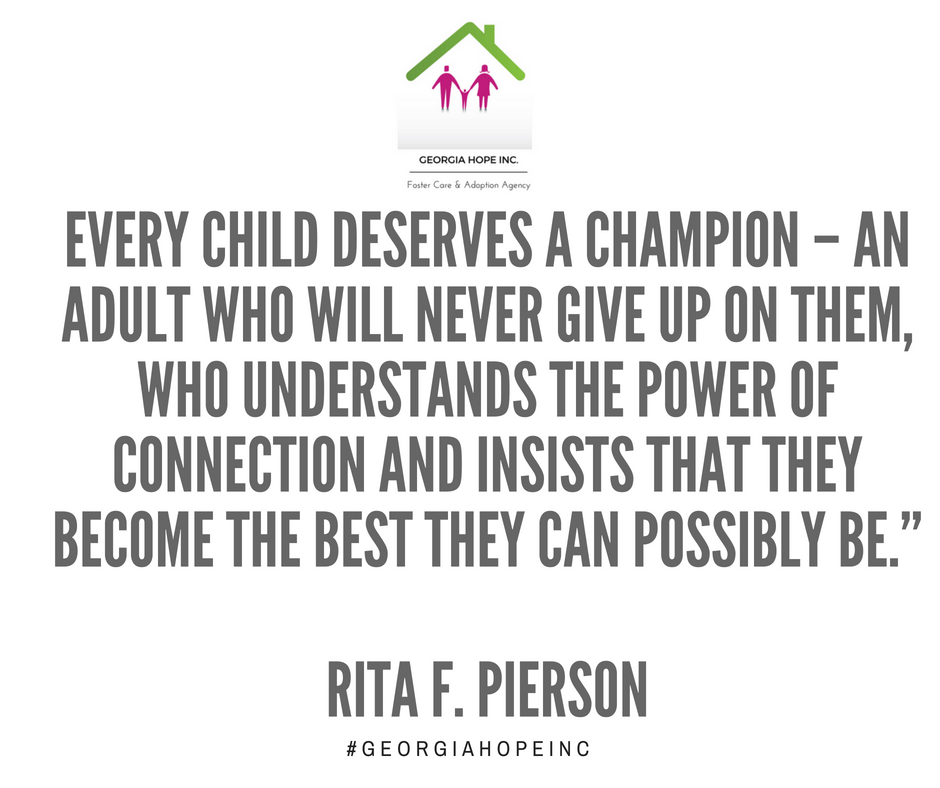 Steps to Become a Foster Parent or Respite Care Provider
In compliance with Georgia's state regulations, all prospective partnership parents must complete our foster care parent application and IMPACT training, a 20-hour certification process to become certified Foster Parents. The following is what to expect should you pursue foster care with our agency:
Step 1: Orientation
The first step to becoming a foster parent or respite care provider is to attend a mandatory group orientation session where prospective applicants can learn about the foster care program and how to become a foster parent. The foster care staff will be available to answer any questions and to help you understand the foster care process and assist you with completing the application.
Step 2: IMPACT Training
Families First offers prospective foster parent applicants certification sessions called IMPACT. During IMPACT, prospective foster parents will participate in a 20-hour mandatory preparation program. IMPACT helps prepare applicants to learn about the foster care system, resources to help meet the need of children in care, child development, working in partnership with biological parents and the impact foster care will have on their lives and the lives of their family. During the third session, a foster care worker will schedule a meeting with the applicants. Once approved as a foster or respite parent, all applicants are required to maintain 25 training hours per year.
Step 3: Home Study
After completion of IMPACT training and satisfactory criminal background checks, a written home study of the prospective applicant's strengths and needs is prepared. The home study is utilized to match families with children in the foster care system.
Georgia Hope, Inc. Foster Care Goals
Provide a safe, stable and nurturing home environment to a youth until they can safely achieve a positive permanency outcome through:

Reunification with birth family
Guardianship
Relative placement/fictive kin
Adoption

To decrease the number of disruptions in a youth's life by:

Providing temporary stable homes
Continuum of quality services
Developing long-lasting and meaningful relationships with a caring adult

Protect youth from further abuse and neglect.