Become Part of the Solution - Volunteer!
Invest your time, your heart, yourself. Become part of Georgia Hope's commitment to empowering families and growing healthy communities. Receive personal satisfaction knowing you are making a difference in the life of a child or family. Lend a helping hand. Provide words of encouragement. Offer personal assistance that really will change lives in ways you may not realize.
You are a valuable resource to your community--get involved today and make solutions possible!
Georgia Hope relies on volunteers from the community, corporations and organizations to provide support that directly serve client needs. From civic organization and church groups to corporate employees and families throughout the metro-Atlanta area, there are many ways that you or your group can get involved in supporting the families and children served by Georgia Hope. Our goal is to provide the most rewarding volunteer experience by matching your interests and talents with our clients' needs.
In-Kind Donations
Georgia Hope relies on the generosity of our community to support the material needs and comforts of low-income families in our programs. Needs range depending on the program and client population, and all items must be new or very gently used. All in-kind needs, categorized by family demographics, are listed below. Financial donations may be mailed to Georgia Hope Donations, 1257 Commercial Drive, Suite C, Conyers GA 30094.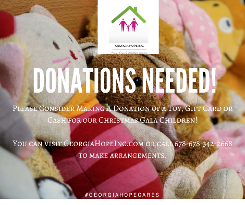 Foster Children and their Caregivers Need:
New Clothing
Gift Cards
Luggage/Duffle Bags
Activities Sponsorship/Event Tickets
First Aid Kits/Toiletries
Medication Lock-boxes
Unwrapped, new Christmas Toys
Pregnant and Parenting Teens Needs are:
Maternity Clothing
Diapers
Infant Formula
New Baby/Mother Baskets